Anna Gardner-Andrews, Program Leader and HOME WORKS! Fellowship Lead
Imagine a veteran teacher making an effort to consistently reach out to parents with positivity for the first time in his career. Before, he mostly reached out if a student exhibited disruptive behavior or was struggling academically. Now, he strives to reach out with good news each month. He proudly smiles and shares with his fellow teachers that his instruction and his classroom atmosphere have both benefited from this routine outreach of praise. He still speaks with family members about student disruptions, but the positive interactions far outweigh the negative ones so a sturdy foundation of mutual trust and admiration has been built. What made the difference? He joined the HOME WORKS! Fellowship. Fellowship teachers are expected to make at least two positive communications to their students' homes per month. This sometimes propels them outside of their comfort zones and motivates them to connect more favorably and more frequently with all of their students and their families.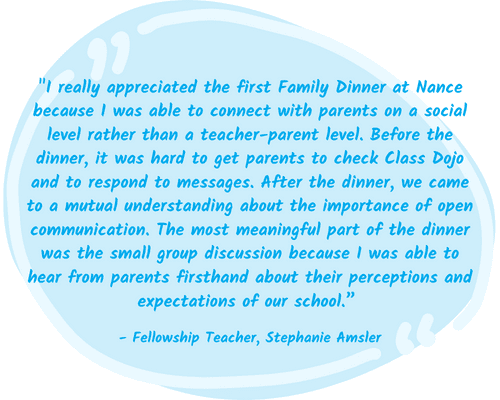 The Fellowship model partners with two St. Louis City Public Schools (Hickey Elementary and Nance Elementary) to explore a deeper approach to family engagement. Fellowship teachers must commit to participate in the program for multiple years and complete at least 150 hours of additional family engagement work over the course of the school year. All students in the Fellowship teachers' classrooms are touched by the HOME WORKS! program. Fellowship teachers complete at least 40 home visits each school year. They plan and lead two parent-teacher workshops and attend monthly meetings with other Fellows and HW! staff to problem solve, share their learnings, and fulfill ongoing data collection responsibilities. In addition to providing more support to families, this deeper implementation will allow us to show the full impact of the HOME WORKS! family engagement program.
The Fellowship Program, now in its second year of a three-year pilot, is flying high again this fall! Fellowship teachers shared valuable feedback over the summer about how to strengthen the program model. At Nance Elementary, they just hosted their first ever HOME WORKS! Family Dinner! Each Fellow worked diligently to make this event an amazing success. The Family Dinner included delicious food, testimonials about the power of the HOME WORKS! program, and rich small group discussions between teachers and family members. Parents shared ideas about what they need schools to offer going forward in order to further engage and empower them. Teachers received this feedback with warmth and enthusiasm.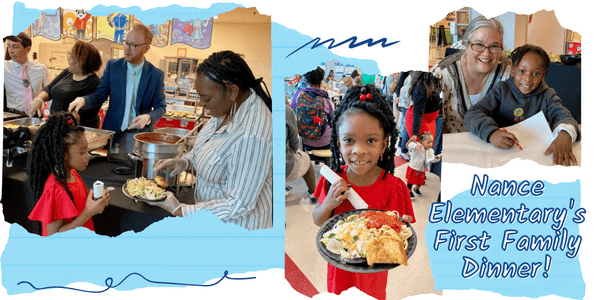 Families and students are being centered and affirmed even more in year two of the Fellowship Program and teachers and staff are excited to forge ahead into the 2022-2023 school year! Stay tuned for more photos, stories, quotations, and updates about this innovative, evolving model for parent and family engagement at HOME WORKS!.